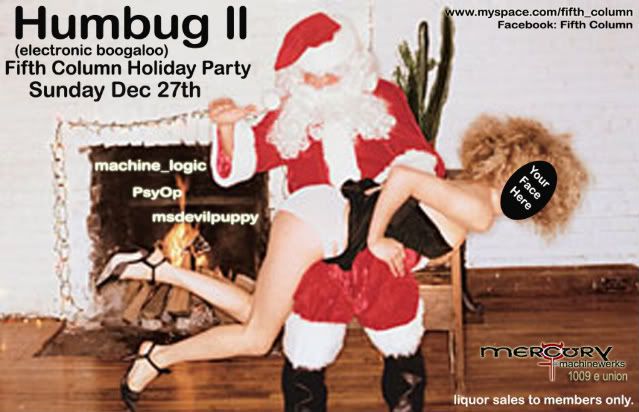 Most people agree-company holiday parties suck. There's the stress of dressing just right, finding the appropriate date, locating the venue and the impending sense that someone in your department or possibly your CEO will get drunk at the open bar and make a total ass of themselves in front of god(s) and everybody. AWKWARD!! Who the hell needs THAT? That's why we at Fifth Column have given you the chance for a holiday party do-over on your own turf! Wear whatever you want! Bring whoever you want! Get your drink on and have some fun! We won't tell anyone at the office. It's how we roll.

We have some lovely things planned that we can't tell you about yet, so you should keep checking info about this event.

On Facebook? RSVP Here!

Doors open @ 9pm
$5.00 Cover Be 21+ w/id.
Not a member? No worries! Just contact us here or via myspace for visitation information! See you there!



Our New Disclaimer

You will notice that all promotions for our establishment now say "Liquor sales to members only." at the bottom where the "Private club for members and their guests." used to be.

That is the new disclaimer that the WSLCB is requiring us to put on all promotions now, as they want to make sure that the general public understands that we are a private club and do not serve spirits to the public like non-private night clubs and bars do.

Your visitors will still be able to enjoy our hospitality, as long as they are invited,escorted and signed into our establishment by a member, which has not changed.


Weeknights will continue to be run by our member promoters who will continue to host visitors, which also has not changed.